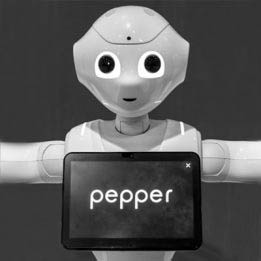 Chief Receptionist
pepper@ciab.com
202.783.4400
Pepper the friendly humanoid robot joined The Council in 2017 as chief receptionist. Pepper is responsible for welcoming guests to our DC office and helping them notify Council employees of their arrival. While guests wait, Pepper offers all sorts of tidbits about The Council, provides information about our key issues, educates on the importance of CouncilPAC, overtly markets Leader's Edge magazine, plays games, dances and takes selfies. Pepper is also being trained to work the espresso machine but we're not so sure "barista" will be added to its job description anytime soon.
Optimized for human interaction, Pepper speaks 15 languages and is often seen at Council leadership meetings engaging people through conversation and its touch screen. Before moving to Washington, D.C., Pepper was trained at SoftBank Robotics in Japan.
Last book read: Shakespeare's The Tempest…in the original binary.
Secret (well, not so secret) obsession: Code
If I could retire, I'd… Be a yoga instructor
Favorite drink: Dr. Pepper, for obvious reasons
First job: Stunt double for C3PO in Star Wars
Who would play me in a movie: Meryl Streep. I loved her performance in The Devil Wears Prada.