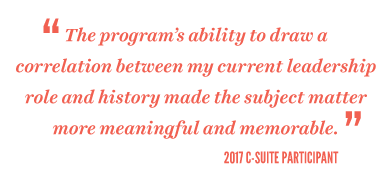 Commanding the C-Suite is a two-day experiential workshop where senior leaders explore the grounds of the Gettysburg battlefield to gain insight into their leadership styles and better understand different ways to accomplish their goals. The workshop focuses on managing relationships, aligning people and purpose, dealing with risk and crisis, and motivating teams through difficult times, by immersing participants in real-life pressures that historic leaders faced. Can success really lead to failure? There's only one way to find out.
What Will You Learn?
Align and link strategic thinking to broad issues and organizational strategies
Balance the need to meet operational demands with innovative strategic initiatives that drive long-term performance and competitiveness
Engage others and build commitment to the construction and implementation of strategies, whether at an individual, team or department level
Create Strategic Measures of Effectiveness to measure and track progress towards specific strategic initiatives
Promote a common vision and strategy
Develop and fine-tune individual strategic thinking and explore best practices
Who Should Attend?
Senior leaders including but not limited to:
C-Suite
Broker Principal
Regional President
Branch Manager
Executive Vice President
Senior Vice President
Cost
There were no results found.
There were no results found.