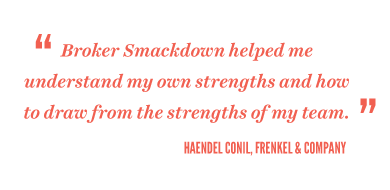 Broker Smackdown is a three day program is designed to give emerging leaders an in-depth understanding of how the insurance brokerage business works, how it makes money, and how strategies and decisions impact financial, operational and sales results. Participants gain a deeper understanding of their role in the big picture of brokerage business and develop an appreciation for the decisions senior leaders make. They also enhance their understanding of the metrics that are important to the bottom line.
In teams of four, participants compete in a computer-simulated insurance brokerage market to experience an elevated level of decision-making with a bird's eye view on the brokerage value chain – from customer segment analysis and lead source management to financial management and producer competency.
The Program Focuses on Developing Eight Core Competencies in Three Important Categories
BUSINESS
LEADERSHIP
INTERPERSONAL
Business Acumen: Concepts, tools and processes that are needed for making sound decisions for the company's business

Business Markets: Knowledge of existing and planned markets and market related initiatives from the perspectives of the competition, the suppliers, the customer base and the regulatory environment

Strategic Thinking: Understanding "big picture" thinking and planning, and identifying and maintaining focus on key success factors

Goal-Setting: Creating goals that stretch the team's capabilities and support business strategies

Accurate Interpersonal Assessment: Understanding the interplay of personalities within a group, and assessing the barriers and opportunities that come from it

Relationship Building: Creating positive team relationships by valuing others' concerns and contributions

Oral Communications: Ability to express oneself and communicate with others verbally

Collaboration: Ability to promote a culture of information-sharing, work together to solve business problems and meet business goals
Participants Make Decisions in The Following Areas
Finance
Financial Management: debt, accounts receivable, working capital, float
Financial Ratio Analysis: profitability, productivity, liquidity, EBITDA, ROE and loss ratios

Customer Management
Service levels, staff training, marketing investments
Customer satisfaction
Customer segment analysis
Profitability of each customer segment

Competition
Competition for policy sales and renewal
Competitive analysis

Sales Office Decisions
Lead source management
Production analysis
Producer competency development
Carrier management
CONCEPTS COVERED

A "total agency" perspective so you can Lead vs. Manage the business

How to apply proven business and management topics to agency operations

How to think strategically and analyze complex business issues

How to analyze key financial statements including income statement, balance sheet and cash flow statement

How to measure success using financial ratios and KPIs including production ratios, expense ratios, trust ratio, segment profitability and EBITDA

How decisions in one function impact the entire agency (integrated decision-making)

How to establish effective group decision-making roles and processes

The importance of the customer and their "lifetime value"

How to make better decisions and drive improved business performance

THREE FACTORS THAT PREDICT SKILL APPLICATION

Job Relevance
The simulation that was created for this program replicates an insurance market in a virtual world. The stakes are high, just like in business.

Personal Motivation
This program is presented as a competition where one team wins the opportunity to represent its firm at The National Broker Smackdown at the Insurance Leadership Forum.

Manager Support
Managers play an important role both before and after Broker Smackdown takes place. They receive a guide with recommendations on how to get the most from the investment they have made in training their employee(s).

They meet with the employee(s) before the session to discuss expectations and goals
They meet after the program to review the Development Plan the participant(s) created during the program

Events Search and Views Navigation
No matching events listed under Broker Smackdown. Please try viewing the full calendar for a complete list of events.
Events List Navigation
Events List Navigation