June 16, 2017
Q1'17 was the most active for the cybersecurity space in five years, experiencing increased investment and expanding with multiple companies leveraging the power of Artificial Intelligence (AI) to provide solutions for today's cyber threats.
A recent webinar by CB Insights analyzes funding rushing into the cyber-AI space and discusses its inevitable implications on the cybersecurity sector. Since 2012, cybersecurity-AI funding has reached $2.1 billion.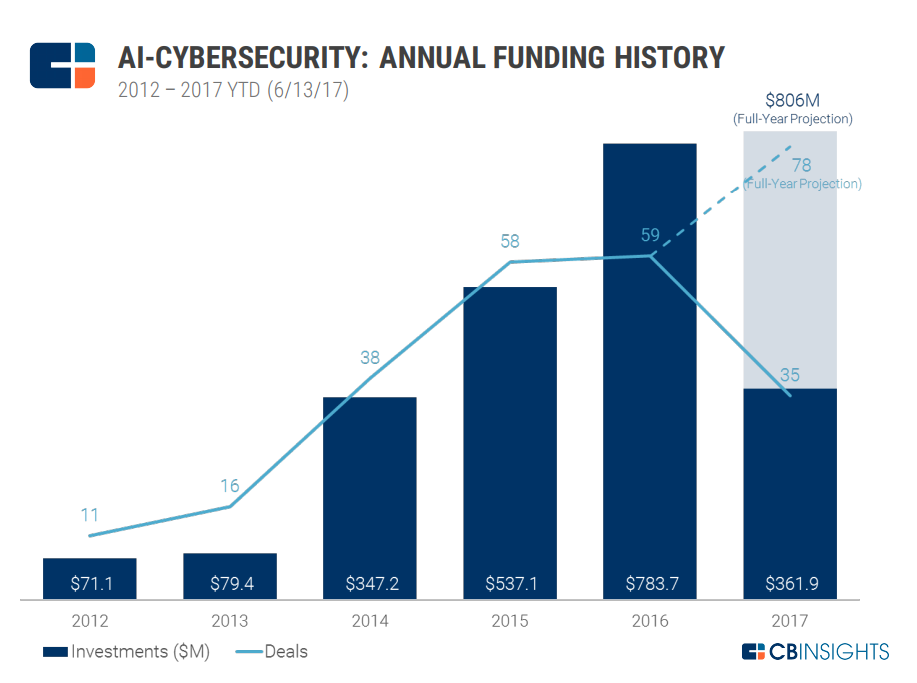 Through machine learning, behavioral analytics and predictive intelligence, AI has the potential to transform the traditional approach to cybersecurity. It can be used to monitor tremendous amounts of activity in real-time, vastly speed up intrusion detection, free up human resources, enable faster remediation and help improve continuous cyber resilience.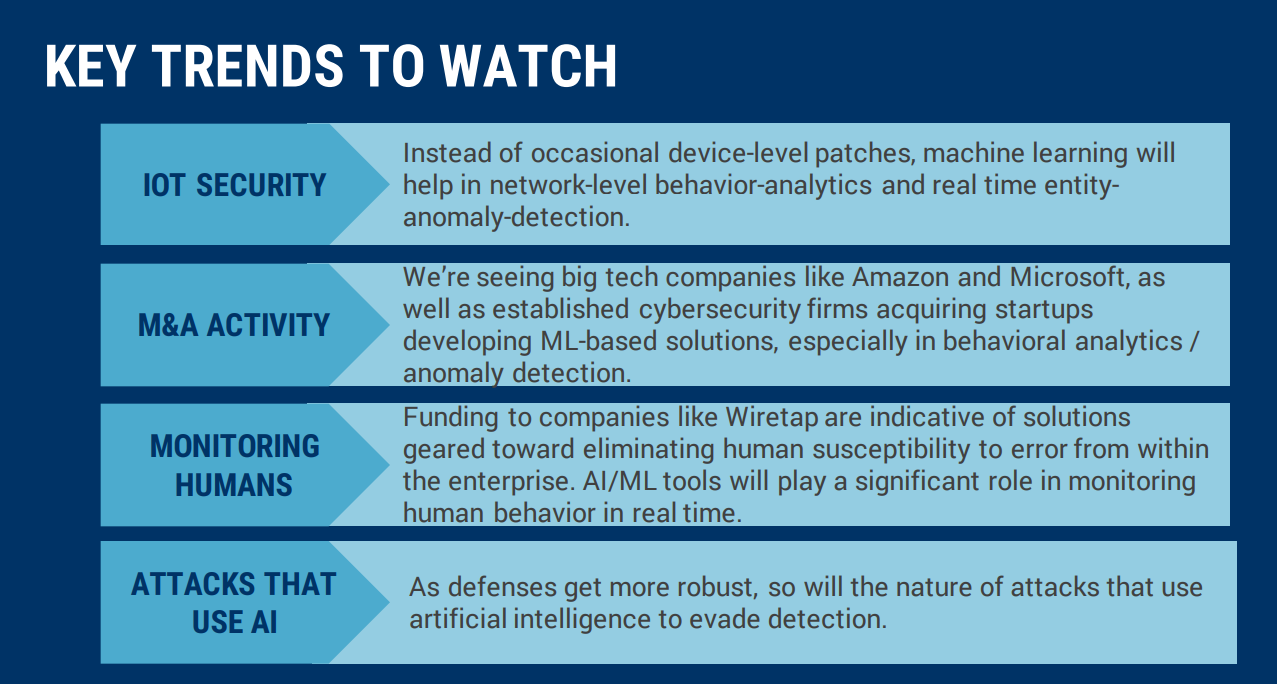 Courtesy CB Insights
CB Insights categorized more than 80 cybersecurity companies into nine categories, such as "Cyber-Risk Management" and the most populated category using AI, "Anti-Fraud and Identity Management."
---
Recent Deal Activity
In 2016 alone, $3.5 billion of investments were in the cybersecurity space and 2017 is on track to exceed that. The number of deals in Q1'17 alone reached an all-time quarterly high, a 20 percent increase from the previous quarterly deal high. (CBInsights)
According to CB Insights, there has only been one mega round of $100 million+ in 2017, out of the nearly 200 cybersecurity deals this year. Cybersecurity firm Crowdstrike raised $100 million in a Series D funding round from investors including Accel Partners, Telstra and Warburg Pincus. The company has raised a total of $256 million with a $1 billion valuation. (BusinessWire)
Microsoft has agreed to acquire cybersecurity firm Hexadite for $100 million. The Boston-based technology company with Israeli roots utilizes AI to detect and defend from cyber threats. Microsoft will integrate Hexadite's AI technology with its "Windows Defender Advanced Threat Protection" (WDATP), in order to enhance the security of the Windows 10 software. (Techcrunch)
---
What We're Reading
When thinking about cyber risks, most companies envision external bad actors trying to hack into their systems or disrupt their operations. They're half right, according to Leader's Edge magazine.
Aviva To Expand in UK Cyber Insurance, Company Pensions
Aviva P.L.C. is launching a product that will cover small to medium-sized businesses from cyber threats, as a means of expanding its specialty insurance division. Additionally, the firm is looking into taking on the risk of company pensions in countries such as India.
Pew: Given The Inevitability of IoT Security Breaches, Are We Getting Ahead of Ourselves?
The Internet of Things (IoT) will continue to expand regardless of increased cybersecurity concerns, according to new research by Pew Research Center. IoT deployment in sectors such as healthcare, power and energy, infrastructure and even in households, provides cyber-criminals more opportunities to hack.
Beazley Offers 'Seamless' Financial Lines Cover for Crime, PI and Data Breaches
Beazley just unveiled two sets of financial lines' products for organizations outside of the U.S., both of which include data breach coverage as a standard. One packages crime and professional indemnity cover, specifically for financial institutions. The other provides management liability cover for traditional and emerging risk.
Everest Launches Cyber Protection for Private Equity Firms, Portfolio Companies
Everest Insurance has partnered with Soteria LLC, a cybersecurity firm, to launch Elevation Private Equity Insurance Policy. The plan provides PE firms and their portfolio companies with network vulnerability scans, routine imposter domain monitoring and a phishing tool designed to mitigate the risks of common cyber threats.
8 Experts Weigh In on Cybersecurity in Shipping & Maritime
Recent research has found that both the shipping and maritime industries are at a high risk of cyberattack. Compounding this issue is the fact that employees in each industry have not received proper cybersecurity training. In this article, eight industry experts provide their thoughts and solutions on the problem.
Facing Cyber Workforce Gap, Companies Look Beyond Tech for New Hires
It's expected that by 2022 there will be a shortage of 1.8 million cybersecurity professionals in the workforce. Sixty-six (66) percent of cybersecurity professionals believe they have too few workers to meet current cyberspace challenges. To meet this demand, organizations should consider searching for talent from non-technical fields. Currently, 87 percent of cybersecurity professionals did not start in a technical role.
Crash Override: The Malware That Took Down A Power Grid
Hackers may have been testing a piece of malware capable of shutting down power grids when the electricity went out for an hour in Kiev, Ukraine, recently. For the first time, researchers describe that malware, which they've alternately named "Industroyer" or "Crash Override," as only the second-ever known case of malicious code purpose-built to disrupt physical systems, and includes swappable, plug-in components that could allow it to be adapted to different electric utilities, easily reused, or even launched simultaneously.