January 5, 2018
Happy New Year.
In a previous spotlight newsletter, we asked readers to identify the technology that will have the greatest market impact in 2018, and the winner was artificial intelligence (AI).
For some, artificial intelligence evokes images of sci-fi like robots or wild futuristic endeavors but in reality, AI has been influencing our lives for years and its impact is only increasing. CB Insight's market map of the top 100 AI start-ups below demonstrate AI's presence in many aspects of our lives.
The list represents companies that have raised $11.7B in aggregate funding across 367 deal ranging from seed/angel to Series E+ funding stages. The top 100 were selected from more than 2,000 startups. From cybersecurity, insurance, healthcare, HR tech, risk and regulatory compliance, IoT, robotics and much more, investing in AI to enhance and evolve our lives is a prominent venture.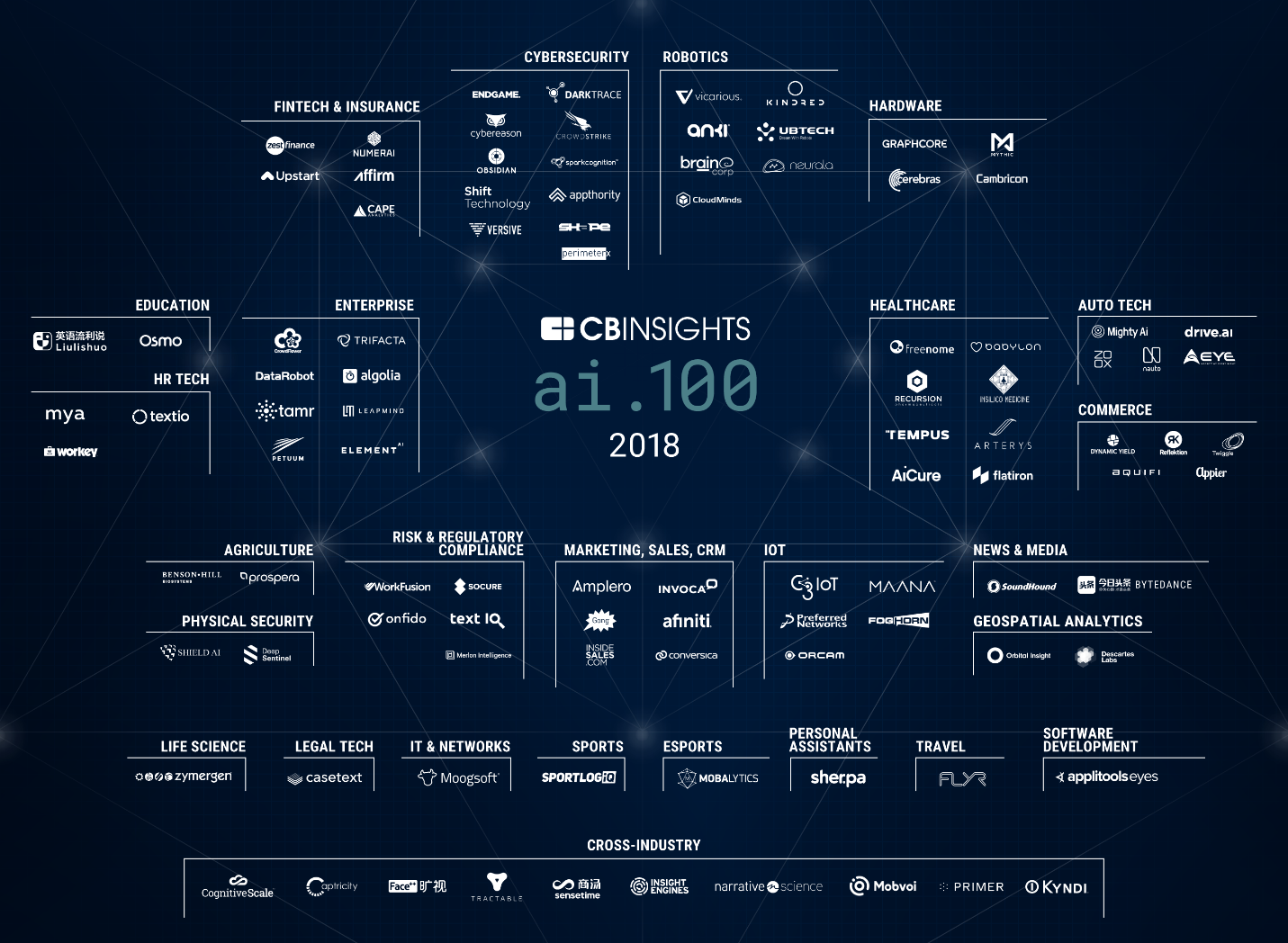 Let's look at three AI companies that have insurance-related implications:
The platform uses a blend of AI and machine learning to predict a variety of natural disasters, examine emergency preparedness and response, and assist with dispatch of emergency responders. The cities of Los Angeles and San Francisco are current partners.
Improves cancer management through early and accurate detection and intervention. Freenome is working to build next generation diagnosis and treatment solutions.
Focuses on getting injured workers back to health and work by supporting claims teams with analytics that identify the best providers for the injury, and detect and manage potentially complicated cases.
These AI products/services have the potential to significantly reduce costs that plague the insurance system and represent a small fraction of innovation taking place across the insurance value chain. The movement in AI, machine learning and data analytics, is on track to further propel the evolution in risk prevention and management.
---
What We're Reading
The American Insurance Association (AIA) has presented a model law to the National Association of Insurance Commissioners (NAIC) for regulatory sandboxes. Regulatory sandboxes encourage innovation by collaborating directly with insurance commissioners.
Amazon is said to be investing in Acko, an online insurance platform in India. With Amazon's wealth of data and the expansive market opportunity in India, Amazon could be utilizing this play as a testing ground for further insurance offerings.
B3i, the blockchain consortium, is seeing significant movement as it prepares to launch as a legal entity in 2018.  The article states "78% of insurers & brokers and 91% of reinsurers surveyed rated the platform as having a specific relevance to being highly relevant to their business." Currently the consortium has a membership of 38 insurers, brokers and reinsurers.