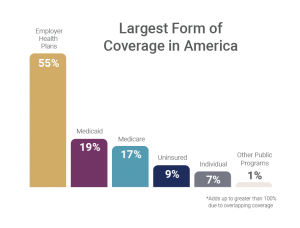 Don't break what's working to fix what's broken.
Employer-Sponsored Insurance (ESI) is the most common type of health coverage in the United States, with more than 181 million Americans—virtually half of the population—depending on it.
While every American deserves access to affordable, quality health coverage, healthcare costs are out of control. To achieve that goal and to address issues within the current healthcare system, we should support the collaboration of the free market and public programs to bring down the cost of care; and discourage the government from increasing its role in the healthcare ecosystem.
The Elements of ESI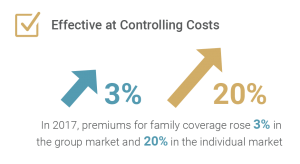 Cost
Americans are most concerned about healthcare costs. While costs are undoubtedly rising, the ESI system is well equipped to address the significant cost drivers of chronic disease and poor health because of employers' investment in employee wellbeing and ability to control costs through creative benefit plan design.

Access
It's important to strengthen employer-provided coverage, Medicare, Medicaid and other programs to provide access to affordable and high-quality care and coverage that works best for individuals and their families.

Quality and Choice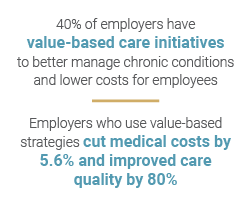 Our goal is to support a healthcare system that produces the most highly trained and accessible workforce of committed doctors, nurses, and specialists. In particular, U.S. consumers have more personal choices than anywhere else in the world when it comes to insurance, doctors and treatments.
Innovation
Americans survive the most prevalent illnesses, including cancers, more often than people in most every other country in the world. Their employers are typically among the first stakeholders to offer new ways to receive and access innovative tools, treatments, and technologies.
How you can support and strengthen ESI
Educational resources for you, your business partners and your clients.
Infographic
Employer-Sponsored Insurance: The Backbone of U.S. Healthcare
One-pagers
Support and Strengthen Employer-Sponsored Insurance
Stabilize the Individual Marketplace
How to Message Conversations Around Healthcare Reform
Are you receiving our Healthcare in Transition newsletter? Contact The Council's Katie Oberkircher at katie.oberkircher@ciab.com for more information and/or to sign up.
Additional Resources and Information
In the News
The Impact of Medicare for America on the Employer Market and Health Spending
Partnership for America's Health Care Future Report
Medicare For All – 10 Truths That No One Will Tell You
Denny Weinburg, LinkedIn Post
Exploring the Implications of Medicare for All
An in-depth look at what Medicare for All (or Medicaid for All) really means for the future of healthcare in the U.S.:
Taking Medicare For All Seriously
Health Affairs
Fact check on Bernie Sanders' recent speech on the cost savings of Medicare for All:
Would Bernie Sanders's Medicare-for-all Save Americans Money?
The Washington Post
Ways and Means Committee Calls for Universal Coverage Hearing
The Committee on Ways and Means will hold a hearing on Wednesday, June 12 2019, digging into universal healthcare coverage. The intent of the hearing is to understand the different health reform proposals introduced by Democrats. Click here for a memo of the hearing, including the witnesses planning to testify, key Democratic messages, and background on healthcare affordability, the state of the ACA and public opinion on single payer proposals.
Kaiser Family Foundation Digs into Medicare for All and its Impact on Seniors
Tricia Neuman, Sc.D, Senior Vice President and Director for the Kaiser Family Foundation's Program on Medicare Policy, lays out the different Medicare for All proposals and how they would affect the older segment of the population. View the slides here.
Employer Spotlight: How Walmart is "Fixing" Healthcare
Check out this series "Transforming Healthcare," published by Harvard Business Review, on the role that employers play in advancing healthcare access and delivery.
Tools You Can Use
Compare Medicare-for-all and Public Plan Proposals (Kaiser Family Foundation)
Member Insights
The team at NFP resets the dialogue on government-run health systems by exploring how they work in the UK, Canada and here in the U.S. within the Veterans Affairs (VA) program.
Has your team written, produced or received worthwhile content covering ESI or Medicare for All? We want to hear from you. Contact The Council's Katie Oberkircher at katie.oberkircher@ciab.com.
The Partnership for America's Health Care Future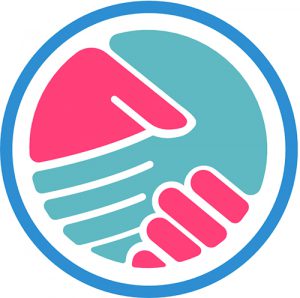 The Council is a founding member of the Partnership for America's Healthcare Future (PAHCF), which is a coalition comprised of doctors, clinicians, community hospitals, health insurance providers, biopharma companies, and other industry players.
It's mission? To support efforts to strengthen employer-provided healthcare coverage and to deliver affordable, accessible and expanded options for care. It does that through extensive polling at the public and lawmaker level, and targeted P.R. campaigns.
PACHF also churns out a variety of resources, including everything from language guides to use when combatting single-payer proposals to detailed social sentiment analyses identifying what phrases and concepts are trending in the media during a given week. Each resource is designed to keep a pulse on the current political and social environment.
Resources you can use and share.
Questions?
Contact Joel Wood at joel.wood@ciab.com or Joel Kopperud at joel.kopperud@ciab.com with any questions.
Follow us on Twitter @TheCIAB
Follow us on LinkedIn