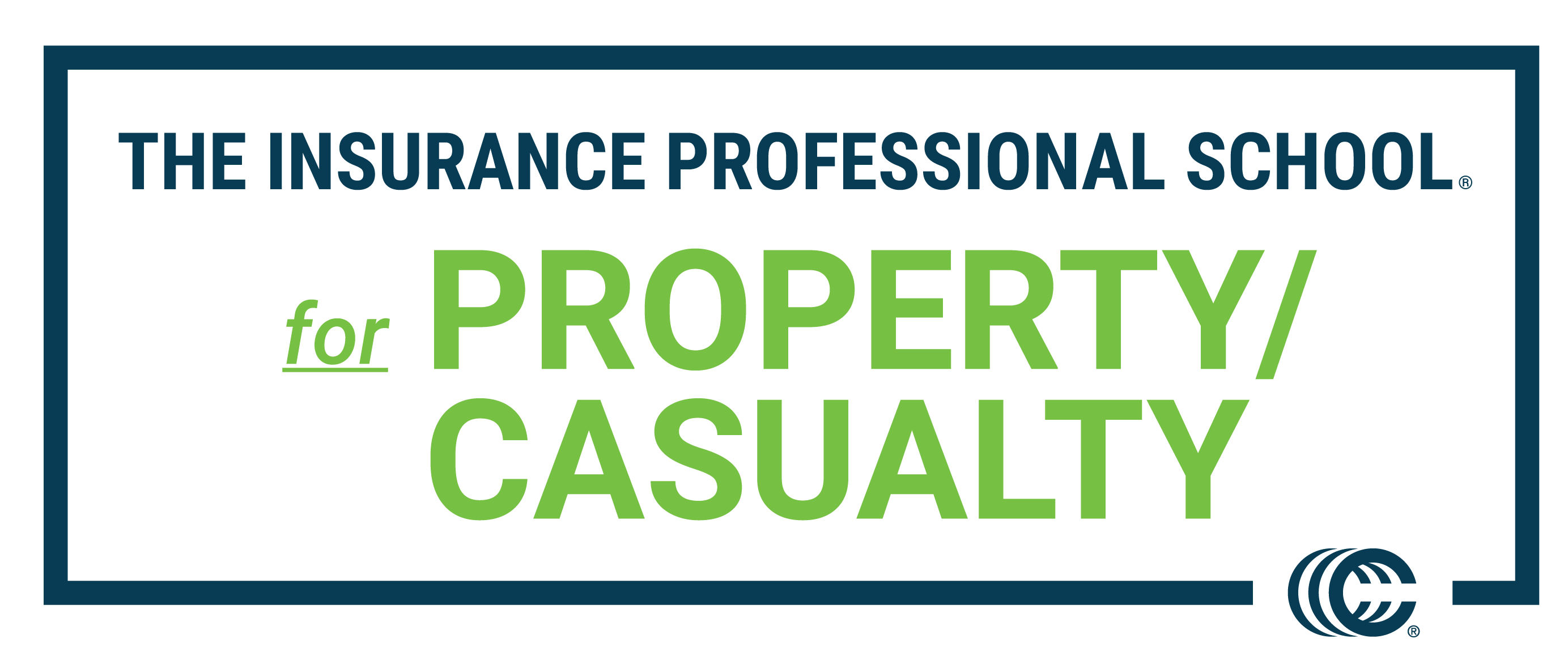 The Insurance Professional School for Property/Casualty offers a comprehensive, seven-month curriculum with a focus on Property Casualty designed to provide your new employees with the knowledge and skills they need to excel within your firm.
PROGRAM OVERVIEW
Cohort-based, comprehensive, brokerage-centric virtual curriculum
Taught by university professors with practical industry experience and industry experts
For the property/casualty curriculum, The Council partnered with the University of Georgia and The Institutes to both develop and teach the program
Participants are eligible to earn an early-career designation upon completion of full learning experience. A combination of live online and on-demand courses run 4-6 hours per week, enabling employees to manage professional responsibilities while immediately practicing newly acquired skills and principles
HOW IT WORKS
The Insurance Professional School combines online, self-paced learning with activities and live virtual sessions that reinforce understanding and provide opportunities to apply the material to real world scenarios. Our program is intentionally designed to allow participants the time they need to do their job while learning the skills they need to succeed. Resources are provided to support managers in their efforts to reinforce and transfer the learning to the job.
Our partnerships with industry experts allow us to offer your employees in-depth knowledge, facilitated discussions, growth-oriented assignments and accountability checkpoints to ensure learning retention.
Participant time commitment: approximately 4 hours per week
Tuition: $3,250
WHO SHOULD ENROLL
The Insurance Professional School is the perfect opportunity for firms to attract and retain young employees with the motivation and drive to become seasoned industry champions. The expert instruction the School offers is designed for participants with less than three years in the industry, who are licensed and in whom you see potential.
Roles that will find the most value in attending The Insurance Professional School include:
Producers/Benefits Consultants
Account executives
Account managers
Claims professionals
Other business development associates
Not sure who to send? If there is someone that you are uncertain about enrolling in The Insurance Professional School, we have developed a screening test which will determine coverage proficiency.
For questions or to set up a call with The Council Academy to learn more, contact insuranceprofessionalschool@ciab.com.
Core Commercial Coverage & Contracts, Exposures, & Risk Management Concepts
Insurance Fundamentals I provides commercial insurance professionals with the solid foundation essential to their success. Participants will receive in-depth core commercial coverage training from industry leaders, with a strong focus on application.
Participants will:
Learn risk management concepts and a process to identify exposures and understand risk management from the client's perspective
Understand insurance contracts and be able to analyze them for coverage and gaps
Attain a deep knowledge of core commercial coverages and know how to apply them to real world situations
Know how to identify exposures and matching coverage to the needs of a client or prospect
Assimilate learnings with an understanding of their firm's unique culture
Learn core employee benefits coverages to view an account holistically, ask appropriate questions and engage in high-level discussions with clients and prospects
Begin to develop a consultant/advisor mindset and practice
Engage and interact with faculty and industry peers
Advanced Commercial Coverages, Specialties, Carrier Relations, Financial & Business Acumen
With a strong competency in core commercial coverages, Insurance Fundamentals II will challenge participants to expand their coverage expertise, build their business acumen, develop their business relationships and enhance critical power skills.
Participants will:                     
Learn advanced coverages and continue to apply coverages with increasing complexity
Understand carrier operations and relationships; identify the primary markets for their firm and learn key coverage differentiators.
Explore and develop specializations/niches
Learn how to read and analyze the financial reports of prospects and clients
Be guided in how to appropriately drive their own development within the firm
Cultivate a future-forward mindset by contemplating emerging trends and honing future skills like sense making and collaboration
Sharpen their personal brand and presentation skills
Participate in a challenging case competition that requires use of the full range of skills and knowledge gained in the program
Risk Management Fundamentals
This two-part unit provides knowledge and application of fundamental risk management concepts. Participants gain an understanding of the steps in the risk management process, how to identify and analyze exposures and techniques for controlling and financing risk. Topics include:
Scope of Risk Management
Risk Management Cost & Benefits
Overview of Risk Management Process
Types of Loss Exposure
Identifying Loss Exposure
Analyzing Loss Exposure
Risk Control Techniques
Risk Financing Techniques
Selecting Appropriate Risk Management Techniques
Implementing Risk Management Techniques
Revising Risk Management Programs
Analyzing Insurance Contracts
In this unit, participants learn essential insurance policy fundamentals, including how policies are structured, common policy provisions and contract analysis.
Physical Contract Construction
Common Provisions
Analysis Methods
Commercial Property Insurance
A three-part deep dive into Commercial Property Insurance, providing participants with in-depth knowledge and application of commercial property coverages. Topics include:
Overview of Commercial Property Insurance
Business Personal Property (BPP) Covered Property
BPP Additional Coverages & Extensions
Causes of Loss – Basic Form & Broad Form
Causes of Loss – Special Form
BPP Limits of Insurance & Deductible
BPP Loss Conditions & Additional Conditions
BPP Optional Coverages
Commercial Property Conditions
Common Policy Conditions
Commercial Property Endorsements
Factors Affecting Commercial Property Premiums
Determining Whether the BPP Covers a Loss
Business Income
This unit provides an in-depth look at business income exposures, concepts, and coverage. Participants learn how business income losses are measured, how a business interruption affects expenses, and the property and perils that business income losses can involve. Topics include:
Business Income Loss Exposures
Business Income Coverage (BIC) Insuring Agreements
BIC Additional Coverages and Coverage Extension
BIC Limit of Insurance and Conditions
BIC Optional Coverages
Determining Whether the BIC Form Covers a Loss
Commercial General Liability Insurance
This three-part unit provides in-depth knowledge and application of commercial general liability coverages. Topics include:
Overview of Commercial General Liability (CGL) Insurance
CGL Coverage A – Insuring Agreement
CGL Coverage A – Exclusions
CGL Coverage B – Personal and Advertising Injury Liability
CGL Coverage C – Medical Payments
CGL Supplementary Payments
CGL Who Is an Insured Provisions
CGL Limits of Insurance
CGL Conditions
Rating CGL Coverage
Determining Whether the CGL Covers a Claim
Workers Compensation and Employer's Liability  
A two-part deep dive into Workers Compensation and Employers Liability (WC&EL) Insurance. Topics include:
Workers Compensation Statutes: Purpose, Benefits, and Persons Covered
Workers Compensation Statutes: Extraterritorial Provisions, Federal Jurisdiction, and Methods for Meeting Employers' Obligations
WC&EL Policy – Workers Compensation Insurance
WC&EL Policy – Employers Liability Insurance
WC&EL Policy – Other States Insurance
Workers Compensation and Employers Liability Insurance Policy—Endorsements
Rating Workers Compensation Insurance
Determining Whether the WC&EL Policy Covers a Claim
Commercial Auto Insurance
The two-part Commercial Auto Insurance unit provides in-depth knowledge and application of commercial auto coverages. Topics include:
Overview of Commercial Auto Insurance
Business Auto Coverage Form (BACF) Covered Autos
Section BACF Covered Autos Liability Coverage
BACF Physical Damage Coverage
BACF Conditions
Business Auto Coverages Added by Endorsement
Rating Commercial Auto Insurance
Determining Whether the BACF Covers a Claim
Excess and Umbrella Liability Insurance/E&O and Specialty Coverages
This unit provides an overview of Excess and Umbrella Liability Insurance and an overview of Professional and Management Liability.
Commercial Excess Liability Insurance
Commercial Umbrella Liability Insurance
Distinguishing Between Professional and Management Liability
Inland and Ocean Marine
In this unit, participants dive into Inland and Ocean Marine Insurance.
Overview of Inland Marine Insurance
Non-filed Classes of Inland Marine Insurance
Filed Classes of Inland Marine Insurance
Overview of Ocean Marine Insurance
Ocean Marine Insurance Policies
Recommending Inland and Ocean Marine Coverages
Commercial Crime Insurance
Deep dive into Commercial Crime insurance.
Overview of Commercial Crime Insurance
Commercial Crime Insuring Agreements
Commercial Crime Limits and Deductible
Commercial Crime Exclusions
Commercial Crime Conditions
Determining Whether the Commercial Crime Coverage Form Covers a Loss
Carrier Operations, Distribution, Underwriting Process
The relationship between the agent/broker and the carrier is the foundation of the insurance business. Strong relationships begin with understanding what each side is trying to accomplish. This unit provides an overview of insurance carrier operations and underwriting fundamentals so that participants will better understand what motivates their carrier partners and how to develop relationships that will allow them to provide optimal solutions for their clients.
Topics covered:
Benefits of Insurance
Insurer Operations
Insurance Company Financials

Profitability
Revenue and Expenses

Underwriting

Underwriting Activities
Capacity Considerations
The Underwriting Process

Developing Strong Carrier Partner Relationships
Market Cycles
Insurance market cycles impact everyone involved in the insurance transaction including a carrier's capacity and underwriting criteria, an agent/broker's ability to place business, and the rates, and terms and conditions available to a client. An insurance professional should understand the factors that impact market cycles, characteristics of hard and soft markets and constantly stay up to date on current and changing market conditions.
Topics covered:
Underwriting Cycles
Factors Influencing Underwriting Cycles
Finance Essentials
Finance is the language of business and it can be foreign to those who don't have a financial background. It is important for an insurance professional to review and understand financial statements as they provide valuable insights about a company. This unit is a primer on finance, focusing on income statements, balance sheets, and KPIs from three perspectives – insurance carriers, agents/brokers and clients.
Topics covered:
Understanding Financial Statements – Balance Sheet, Income Statement, Cash Flow Statements
Key Financial Ratios
Reinsurance
Reinsurance is critical to the smooth functioning of the global insurance market. It is important for insurance professionals to understand how reinsurance impacts underwriting and the different types of reinsurance commonly used by carriers.
Topics covered:
Reinsurance Fundamentals
Functions of Reinsurance
Treaty and Facultative
Sources of Reinsurance
Carrier Relationships/Learn Your Markets
The relationship between carrier and agent/broker partners is critical. Knowing your markets allows you to deliver great results for your clients and leverage markets to differentiate yourself from your competition. In this unit, participants learn tips and best practices to improve relationships with carrier partners and are introduced to a framework to help them learn about their markets. Participants select a market they would like to learn more about and work in teams to research the carrier. The assignment also provides an opportunity to connect with a partner at the carrier and internal resources within their firms, to begin to foster relationships. Each team presents their findings later in the program.
Building Business Relationships
Insurance is often called a relationship business. This unit will help participants identify and evaluate their most important relationships with clients, carrier partners, internal SMEs and COIs and create a strategic plan to develop and advance them.
Brand You: An Introduction to Personal Brand
Jeff Bezos said, 'A brand for a company or a product can be equated to a reputation for a person". Your personal brand can help you make a great first impression, leave a lasting impact and support your business goals. In this unit, participants are introduced to personal brand – what it is and how to build their own unique brand.
Specialization/Niches
A specialization or niche can build an expertise in an industry and/or line of business. In-depth understanding of a client's business and operations as well as markets that serve them can be a significant differentiator.  Participants will learn the benefits of specializing, how to select a specialization/niche and how to build and develop their specialization. Whether just beginning the process of selecting a niche or handling a book of specialized business, participants will develop a plan to advance the development of their niche.
Topics covered:
Why Specialize?
Selecting a Niche
Implementing your Niche
What does a Niche have to do with me? (non-production roles)
Niche Development Planning
Connecting Financials to Insurance
A client's financials can provide insights into the business and operations. This unit explores key financial ratios and the insurance implications for a client and walks through the Business Income worksheet.
Claims Fundamentals
Understanding how claims are handled can help an insurance professional support a client through the process.
Topics covered:
Parties to the Insurance Policy
Claim Handling Activities
Roles of Claims Personnel
Interpersonal Skills of Claims Representatives
Laws that Influence Claims Handling Practices
Regulatory Requirements that Affect Claim Handling
Measures Used to Ensure Regulatory Compliance
Being an Advocate for Your Client
Loss Control & Risk Management
Risk Management/Loss Control services provided by carriers and agents/brokers are critical to helping clients manage their risk and reduce the frequency and severity of losses.  In this unit, participants become familiar with the role of their firm's Risk Management specialists and carrier Loss Control engineers. An in-agency assignment requires them to accompany a risk management/loss control specialist on a client or prospect visit to see firsthand how they work with clients to identify and mitigate exposures.  They will also learn the role of a client's risk manager and how to best work with them.
Alternative Risk Financing & Captives
In this unit, participants are introduced to alternative risk financing methods with a focus on captives. They will gain a better understanding of when alternative risk financing is appropriate for a client and what options may be explored and how captives work.
Topics covered:
Alternative Risk Financing
Captive Industry Overview
Types of Captives
Advantages and Disadvantages of Captives
Risks Commonly Insured in Captives
Excess & Surplus Lines
This unit will show the critical role of the Excess & Surplus Lines market, the role of wholesalers and MGAs. Participants are also introduced to the Lloyd's market and learn how it works.
Topics covered:
Overview of the Surplus Lines Market
The Surplus Lines Distribution System
Surplus Lines Insurers
Surplus Lines Insurance Products
An Introduction to the Lloyd's Market
Cyber
Cyber risks and exposures are constantly evolving and becoming more of a concern for every commercial client. Participants will learn about cyber exposures, measures to mitigate them and cyber coverages.
Topics covered:
Electronic Data Protection
Cyber Extortion
Cyber Crime
Notification or Remediation
Business Interruption
Network Security Liability
Privacy Liability
Electronic Media Liability
Technology Errors and Omissions Liability
Intellectual Property Liability
Management Liability
Management Liability insurance provides protection for a business and its directors, officers, board members, managers and administrators from lawsuits related to governance, finance, benefits and management activities. This unit provides an understanding of the common management liability exposures that commercial clients face and the available coverages.
Topics covered:
Directors and Officers Insurance
Employment Practices Liability Insurance
Fiduciary Insurance
Fidelity/Crime Insurance
International Insurance
In today's global economy, businesses of all sizes have international exposures such as foreign travel, facilities overseas and importing or exporting goods. International insurance coverages may be needed to fill gaps that could leave businesses vulnerable. This unit is a primer on international insurance, providing a fundamental understanding of the exposures, when international insurance is needed and ways it can be provided.
Topics covered:
Speaking the Foreign Lingo
Territory vs. Jurisdiction
FOS: Freedom of Service
Ways Foreign Exposures Can Be Covered
Underwriting Foreign Package Coverage Parts
Foreign Package Claims Examples
Defense Base Act
Only in International
Legislative Landscape & Advocacy
Participants will take a close look at state regulation of the industry and the role of advocacy.  The Council's Government Affairs team discuss their role and highlight the current legislative issues they are addressing.
Sensemaking with Data
The amount of data generated continues to increase daily. However, it is challenging to understand, analyze and use data effectively. Data visualization is a technique for extracting insights from business data. In Sensemaking with Data, participants learn how to use date and visualization to tell a story, allowing them to effectively present insights from complex data.
Surety
This unit provides an overview of surety and common types of bonds:
Contract Bonds
License and Permit Bonds
Public Official Bonds
Court Bonds
Miscellaneous Bonds
Environmental Insurance
This unit provides a high-level overview of common environmental insurance policies:
Site-specific Environmental Impairment Liability
Underground Storage Tank Compliance
Remediation Stop-loss
Contractor Pollution Liability
Environmental Professional Errors and Omissions (E&O) Liability
Emerging Industry Issues & Trends
This unit explores current industry issues and trends including topics such as Insurtech and climate change.
Presentation Skills
Presentation skills enhance the ability to effectively communicate in both one-on-one communications and group presentations.  Participants are introduced to ways to improve their communications and presentation skills and, in small groups, receive coaching that will allow them to recognize and improve their content and delivery.
Capstone Project
The Insurance Professional School culminates with a Capstone Project that requires the participants to integrate and apply the content and skills they learned over the course of the program.  It is a case study competition with participants working in teams to identify and assess the company's key risks and develop recommendations on the appropriate risk handling and treatment approaches to use.  Each team presents their findings and recommends solution to the client, including insurance and non-insurance means of managing and transferring risks. A panel of judges, representing the client's leadership team, determine which agent/broker team "wins" the business.
PROGRAM PARTNERS & CONTRIBUTORS
University of Georgia Terry College of Business
The University of Georgia partnership with The Insurance Professional School provides industry-leading expertise, high-level instruction, and hands-on application of the technical skills participants need to excel at their firm. The Risk Management and Insurance Program at UGA's Terry College of Business is home to the largest undergraduate program of its kind in the U.S. and has again been ranked #1 by US News and World Report.
The Institutes
The Institutes are a trusted knowledge partner for The Insurance Professional School, providing proven online content as a foundational component of the commercial property-casualty insurance curriculum. The Institutes are the leader in delivering knowledge solutions that empower risk management and insurance professionals to help those in need.
Jennifer Atkinson is Lecturer of Risk Management and Insurance in UGA's Terry College. She is a highly rated instructor and has taught 70 sections of upper-level courses in class sizes ranging from 14 to 125. She also serves as Faculty Advisor to the Insurance Society and Gamma Iota Sigma and has been successful in increasing the number and quality of activities offered to resulting in participation in both clubs having increased significantly. Under Jennifer's guidance, the UGA chapter of Gamma Iota Sigma has consistently earned the "Well-rounded Chapter" award from the national organization. Previously Atkinson was Vice President of Bowring March and was Risk Management Consultant at PricewaterhouseCoopers.
Education
BBA, Risk Management and Insurance, University of Georgia
Daniel J. Brown is Lecturer of Risk Management and Insurance in UGA's Terry College. Prior to joining the college, Brown was Senior Manager of Competitive and Product Analysis at Georgia Farm Bureau Mutual Insurance Company where his work focused on predictive analytics and modeling, competitive analysis, product development and reinsurance.
Daniel is a member of the Society of Chartered Property and Casualty Underwriters and the Association of Insurance Compliance Professionals among other affiliations.
Education
MBA, Business Administration, Georgia College and State University
B.B.A., Finance, University of Georgia
Rob Hoyt is the Dudley L. Moore Jr. Chair and Professor and Department Head in Terry's Risk Management and Insurance Program. He teaches corporate risk management and enterprise risk management and has served as the Department Head for Insurance, Legal Studies, and Real Estate for 16 years. He was Interim Dean of the Terry College in 2007 and has been on the UGA faculty since 1988.
Education
Ph.D., Risk and Insurance, The Wharton School, University of Pennsylvania
M.A., Risk and Insurance, The Wharton School, University of Pennsylvania
B.S., Math, Economics, Actuarial Science, and German
Click here to view the Insurance Professional School Content Contributors.