November 27, 2017

Drug Price Transparency Legislation Dropped in Senate
Senator Dick Durbin (R-IL) recently dropped a bill, S. 2157, the Drug Price Transparency in Communications Act of 2017. It would require that direct-to-consumer (DTC) advertisements disclose the Wholesale Acquisition Cost (WAC) of a drug, and a failure to do so would result in a fine of up to $1 million for a first-time violation, which would be transferred to the National Institutes of Health (NIH) for medical research. The legislation also directs the FDA to issue regulations on how the monthly WAC must be disclosed, which would include a single price, visual and audio listings, and may include a brief qualitative explanation that the drug may be available to certain patients for less. Lastly, it would require pharmaceutical communications with health care practitioners to include the WAC of the drug, and failure to do so would be penalized as an unfair and deceptive trade practice under an administrative complaint process.
S. 2057 is endorsed by the American College of Physicians, Consumers Union, and the Chicago Medical Society. At this time, there is no House companion, but has it already garnered the support of 5 other Senators.
In the meantime, a number of the states—struggling to cover rising healthcare costs—have been addressing the issue rather than waiting for federal help. At least 176 bills on pharmaceutical pricing and payment have been introduced this year in 36 states, according to the National Conference of State Legislatures. Our legal team at Steptoe & Johnson has compiled this state-by-state drug pricing transparency legislation tracker to highlight states that have either passed bills, or are close in the process.
Senate Tax Reform Bill Faces a "Byrd Bath"
For the first time in over three decades, members of Congress are making a serious run at a comprehensive overhaul of the tax code, the success or failure of which will impact every American taxpayer. What will be included in this legislation (and what will not) will be largely determined by members themselves. But they are likely to find their choices constrained by the arcane rules of the reconciliation process.
Check out this article on reconciliation and tax reform, written by our legal team at Steptoe & Johnson.
NFIP Update: December 8 Deadline Looming
The House of Representatives passed HR 2874, the 21st Century Flood Reform Act, by a somewhat bipartisan vote of 237-189 on November 14. Coastal Republicans continued to buck party leadership and voted against the measure citing affordability concerns, while a few Democrats defied party leadership by supporting the effort.
HR 2874 reauthorizes the National Flood Insurance Program for five years, opens access for the private insurance market—including the removal of the non-compete clause—and gradually phases out federal government subsidization of severe repetitive risk homes. The President has indicated that he will sign the bill into law if it comes to his desk, but for now, it's up to the Senate to either consider HR 2874 or come up with its own legislation…by December 8. A complete analysis of the legislation is here.

As the insurtech market continues to boom, as is demonstrated by the volume of new products/services competing for market share, it is a worthwhile exercise to see what has gained traction over the past year.
Which area on the chart below do you think will have the most market impact in 2018? Weigh in via this two-question survey.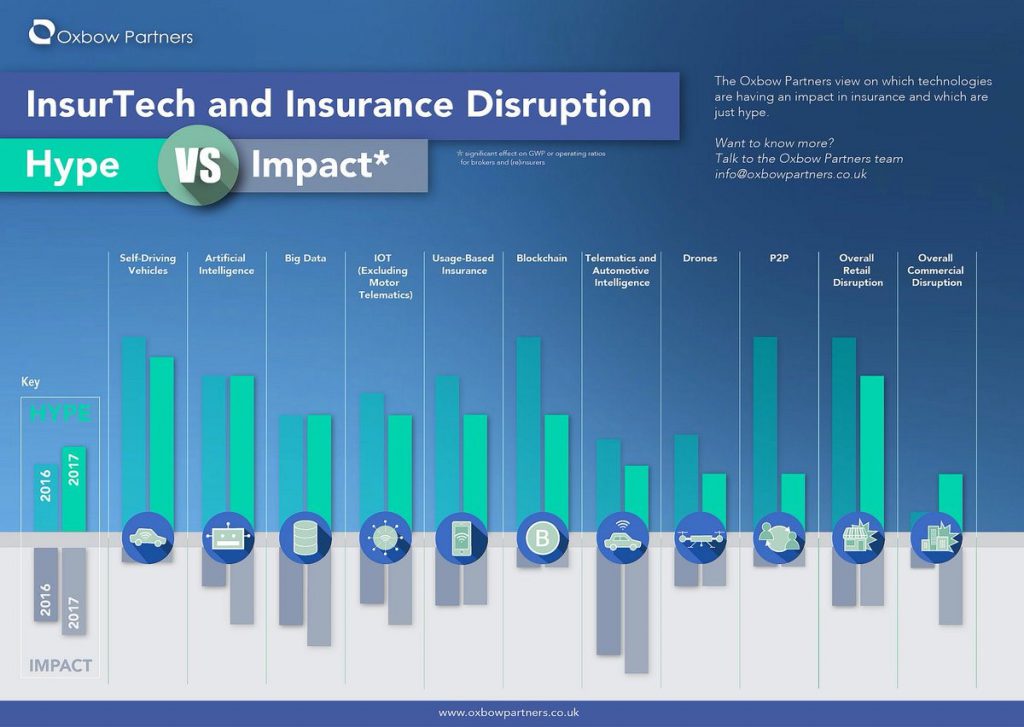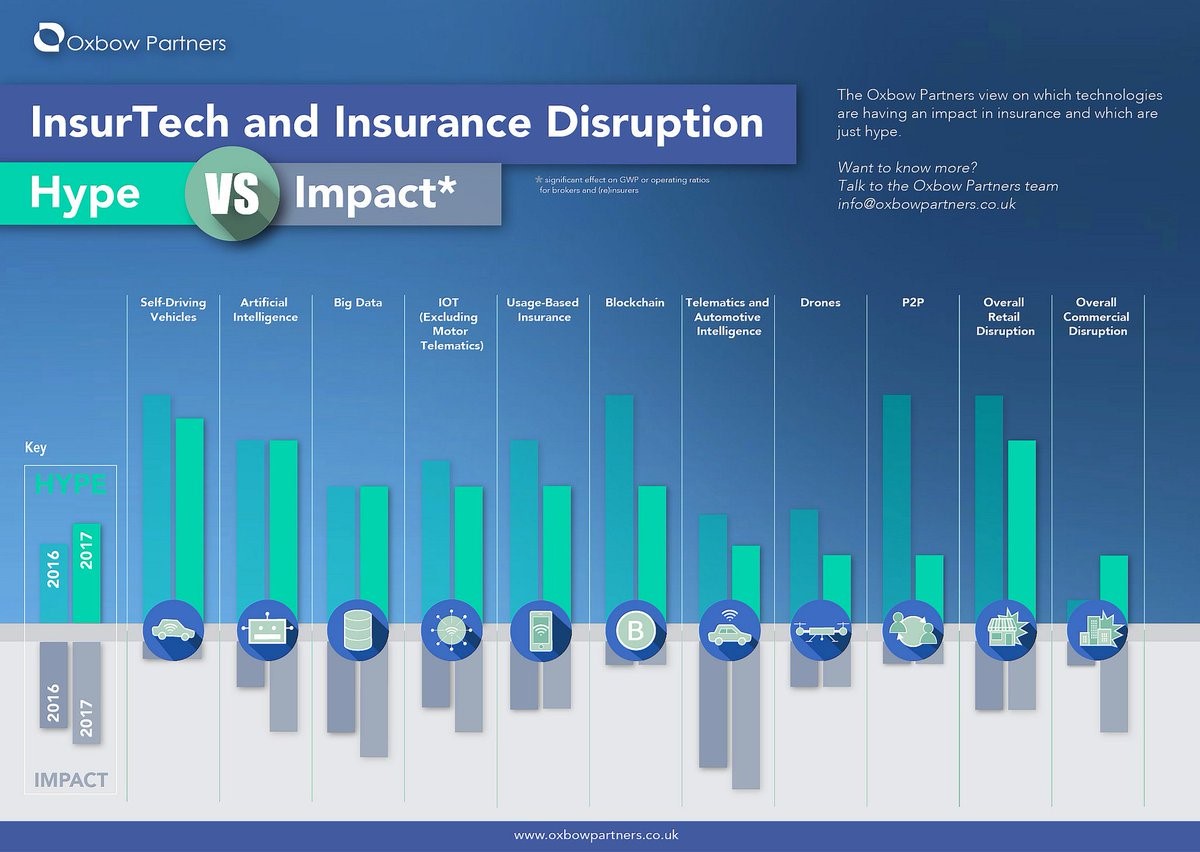 The chart outlines the variance between market hype and impact between 2016-2017 for a handful of technologies touted to be significant innovators for the industry.
Overall, the level of perceived hype in the market decreased, while the impact stayed even or increased. Not surprisingly, the impact of artificial intelligence (AI), big data, IoT, telematics and automotive intelligence, and overall commercial disruption all increased in market impact. Does this demonstrate the power of these technological capabilities? Does this signal industry incumbents are understanding the power of collaborating with insurtechs that can power their business to new levels?
Survey results will be shared in a future Insurtech Spotlight. Don't receive The Council's Insurtech Spotlight? Contact The Council's Rob Boyce at robert.boyce@ciab.com.

Now Playing: Opportunities Abound: Data, Insurtech & More
Understanding data to improve the client experience, a spotlight on Insurtech and opportunities within the insurance value chain.  Our conversation with Martha Notaras, Partner, XL Innovate.

CAT Modelers Tackle Global Underinsurance
You can't manage what you can't measure. Catastrophe exposure is no exception. Insurers' ability to price cat risk depends on knowing who and what is exposed—people, property, businesses and infrastructure—and to what perils. This is why the world's economic losses from natural hazards are 70% uninsured—more than 90% uninsured in many low-income countries.

Blaire Bartlett, Director, Government Affairs
Vulnerabilities Equities Policy and Process for the United States Government
The White House