October 12, 2018
ILF and ITC: Big Meetings, Big Ideas
Hot on the heels of The Council's Insurance Leadership Forum (ILF) came InsureTech Connect (ITC), the insurance industry's largest gathering of insurance leaders and innovators in Las Vegas. This year, attendance tripled and included nearly 6,000 attendees from over 1,700 companies.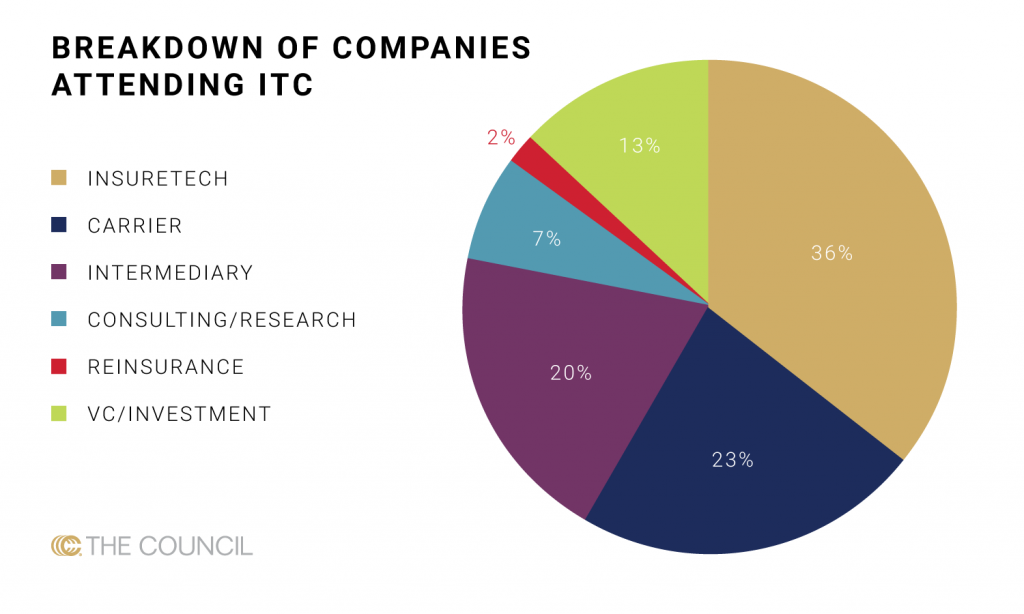 Key takeaways:
ITC's attendance and business program primarily focuses on property/casualty over health.
The commercial p/c conversations between attendees are heavily dominated by new and existing players attacking the small business opportunity via tech-enabled distribution platforms.
"The ship for disruption has sailed," said Jay Weintraub, co-founder and CEO of ITC. More than ever, insurtechs and industry incumbents alike are looking for partnerships and collaboration.
The boundaries between different market players are becoming increasingly blurred as insurtechs are exploring innovative distribution methods, particularly in the form of MGAs.
Industry players are fighting to be closest to the customer; the "customer journey" was a central theme throughout the conference.
Q&A with Jay Weintraub, Co-Founder and CEO, InsureTech Connect
On the last day of ITC, we had the opportunity to sit down with Jay Weintraub for an exclusive interview to discuss his perspective on ITC and how he expects the industry to evolve and adapt in coming years.
Can you speak to the overall conversation at this year's event and how it has changed over the past three years? Where do you see it going forward?
"If we think back to three years ago when we first began, the audience makeup was predominantly early adopters—and who are the early adopters? The early adopters are the investors, the insurtechs and a handful of the forward-thinking—primarily carriers—who are seeing this happen. By and large, it was very early adopters, which meant tech first, investor first.
"Insurtech is made up of two things: insurance and tech. From day one, we always wanted this to be an insurance show. Tech can be a lot of things, but it's only as powerful as the people who wield it. For us, insurtech only exists not because of tech but because of insurance. For us, one of the most gratifying things we've always hoped for is the adoption of insurtech by the broader insurance industry. It's not just a trend; it's a movement."
Tech a Major Focus at this Year's Insurance Leadership Forum (ILF)
The Council's Insurance Leadership Forum (ILF) took place from September 29 to October 2, and "optimistic" is the best way to describe the attitudes of members who attended. The insurance industry has begun to embrace technological innovation, and many of our members see the opportunities that new tech offers—demonstrated by the interest in our first-ever Focus Forward: TECHTalk, which saw the room overflowing with people eager to hear the dialogue between representatives from five broker-focused insurtechs.
Because of how they impact the customer experience, digitalization and streamlining policy workflow were key themes that came up time and again during discussions at ILF. More and more, insurers and brokers alike are realizing that in today's economy, insureds want convenience. One of the ways to facilitate that is by pivoting toward a more digital, more online business process and by partnering with insurtech startups that can help with that transition.
Market Insights
Plenty of Money for Insurtechs, but Fewer New Entrants
A new Deloitte report shows signs that insurtech investment is becoming more strategic, with 64 percent more money invested in late-stage startups than all of 2017, and only 4 startup launches in the first half of 2018 compared to 2017's 69 and 2016's 177.
---
In the News
Travelers Teams Up with Amazon to Provide Smart Home Solutions
Willis Towers Watson Expands Partnership with Plug and Play
Over 20 Start-Ups Pledge Support for Proposed Insurtech Trade Body
MGAA Officially Launches with Agents Representing £1.25bn GWP
Willis Towers Watson Introduces Property Loss Modeling Platform
Marsh Makes Blockchain Proof of Insurance Accessible through Salesforce
---
HealthTech
Providers Are Going Digital to Meet Increased Demand
Commentary: New Telemedicine Models Hold Promise in Population Health
Apple Watch App Helps Doctors Save Time on Administrative Work
Humana Rolls out Fitbit Health Coaching App
19 Corporate Innovation Labs in Healthcare
Blockchain Hype May Finally Turn Into Reality in Pharmaceuticals