May 25, 2018
Health Insurance Companies Lead in Insurtech Funding in Q1, 2018: Venture Scanner
According to Venture Scanner's Insurtech Overview, insurtechs have raised $976 million since the start of the year, with health insurance companies raising the most at $280 million. Additionally, insurance technology funding in Q1 2018 increased from the Q1 funding in past years – the funding in Q1 2018 is 53 percent higher than the average funding of all Q1s from 2011-2017.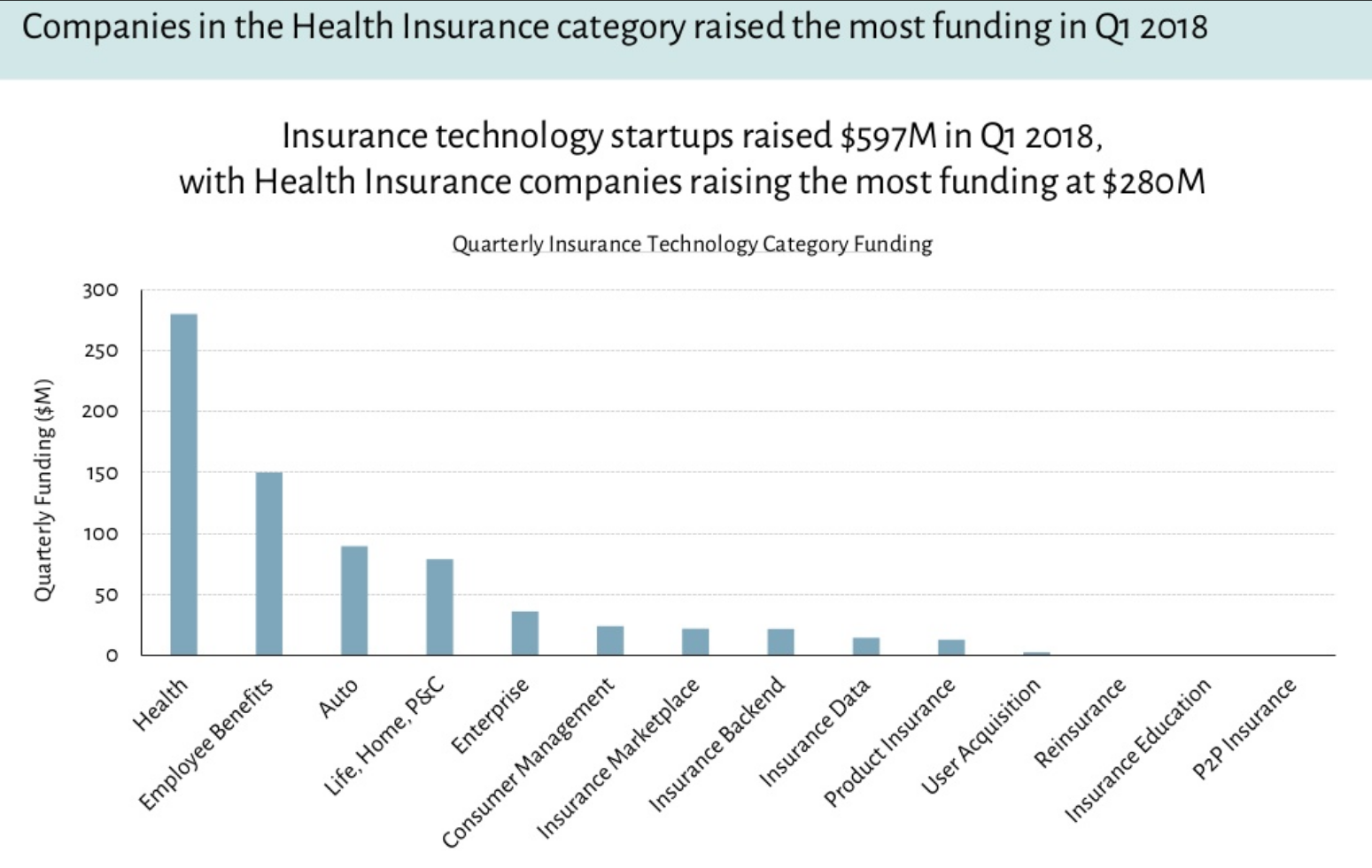 Source: Venture Scanner Insurtech Q1 2018 Startup Highlights
For those attending The Council's Employee Benefits Leadership Forum next week, be sure to attend the Wild World of Healthcare Transformation panel on Thursday, May 31.  It will feature a broker, medical carriers and Plug & Play weighing in on innovation efforts, investments and partnerships.
What is the EU's GDPR and Why Does it Matter: CB Insights
Compared to other regulations, the EU's General Data Protection Regulation (GDPR) is the most talked about in Q1 2018 earnings calls. This regulation, which goes into effect today, May 25, does not solely affect companies operating in the EU. Under the GDPR, the EU data protection law will apply directly to many U.S. and other foreign companies that target the EU market from abroad, including insurance intermediaries.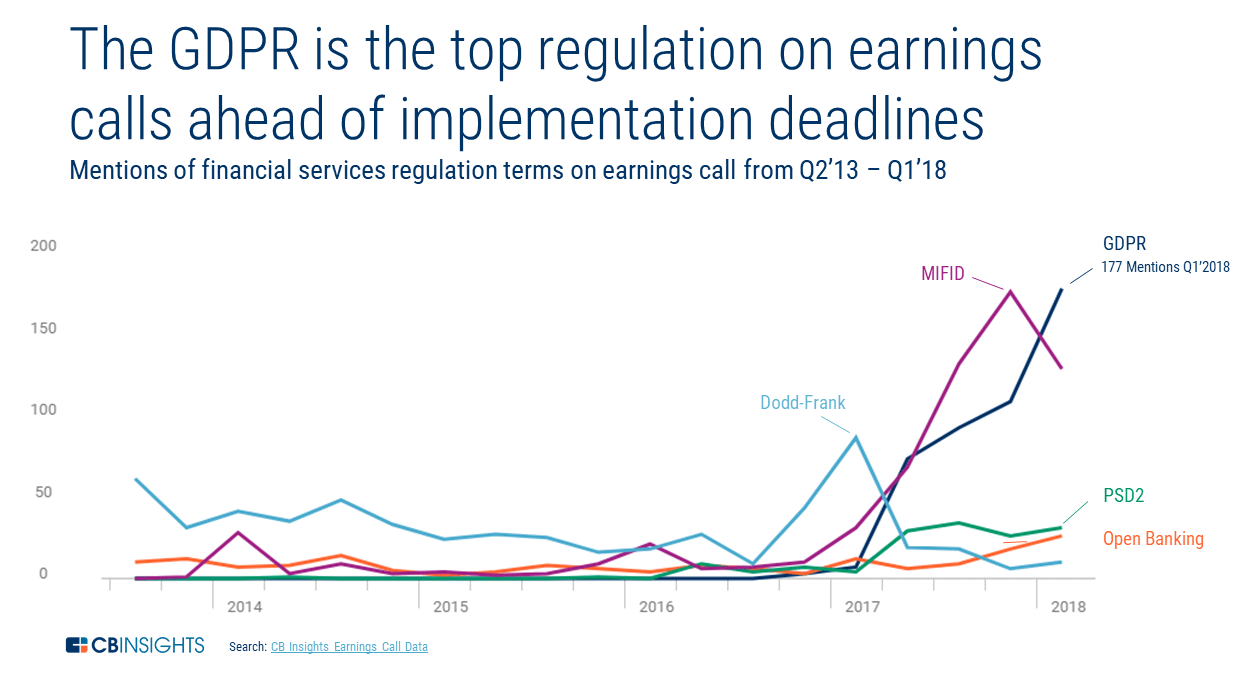 Source: CB Insights
Put simply, GDPR's core tenants are:
Request to consent: Firms with any PII must have consumers' consent to collect and hold that information, and can only collect what is adequate, necessary, and not excessive.
Right to access: Firms must be transparent with citizens about what PII is being processed and for what purpose.
Right to be forgotten: The right to erase personal data, cease dissemination, and halt processing of a citizens' data.
Privacy by design: Privacy by design has existed for years, but GDPR makes it a legal requirement. It calls for designing systems at the outset that protect user identity.
Any firm found in violation of GDPR, inside and outside the EU, is subject to fines as high as 4 percent of the firm's total revenue, or a fee of €20M ($23.6 million USD), whichever is higher.
Insurers' Digital Timeline Speeds up with Pressure from Big Tech
Nearly a third of consumers would be open to purchasing insurance from big tech firms such as Amazon and Apple, according to the new World Insurance Report 2018 from Capgemini in collaboration with Efma. However, the question remains of whether big tech will want to be risk-owning and risk-bearing entities.
In response to this challenge for the insurance industry, the report found that leading North American insurers are "investing significantly in microservice enablements of their core transactional platforms, using APIs to expose the core functions of various claim activities," and expect varying levels of payback from their digital investments, according to a recent Digital Insurance article.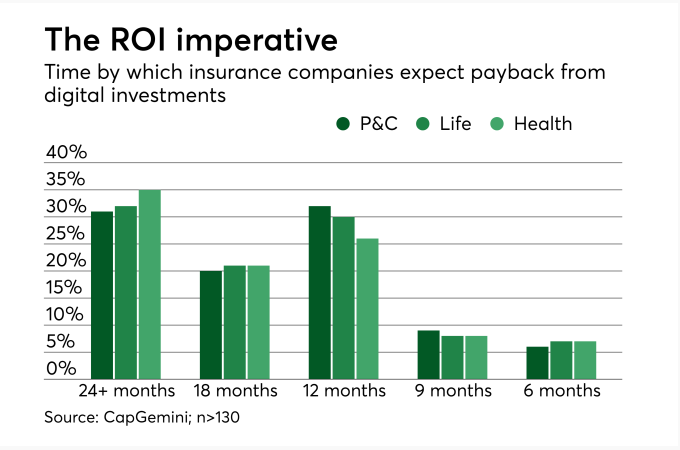 Source: Digital Insurance 
In The News
British Insurance Brokers' Association (Biba) Starts Work on Dating Agency to Connect Brokers and Insurtechs
How Exposed Are You? Cybersecurity Questions for the Insurance Industry
Warren Buffet: Companies Must Weigh Uncertainties in an Unproven Cyber Insurance Market
Insurtechs begin to converge with incumbents on core
Cybersecurity, Insurtech regulation poised to define 2018
Drones bring a 'mindblowing' level of data to claims: Allstate EVP