May 3, 2018
Publicly traded U.S. broker firms appear to be focusing more of their attention to cybersecurity and cyber insurance, as combined mentions of "cyber" in earnings calls increased from 1 in 2013 to 64 in 2017.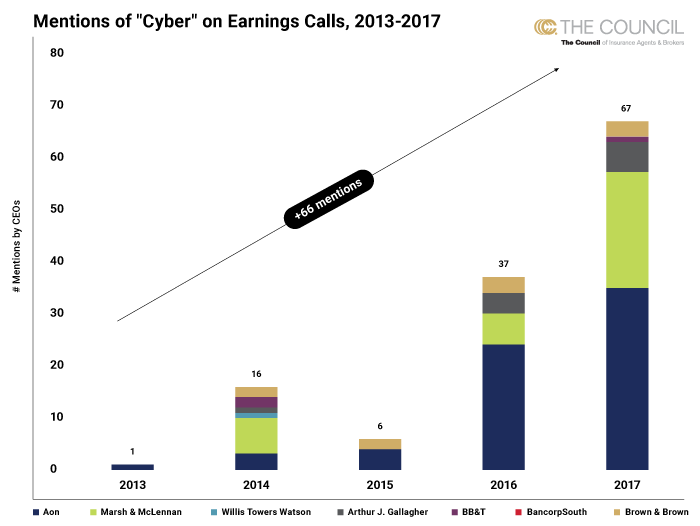 While the uptick in 2014  could be contributed to a number of reasons, we suspect the Target and EBay breaches in late 2013 and 2014 brought to light the importance of data security in the boardroom, as well as the potential role cyber insurance could play in hedging against cyber risk. Since then, large-scale public breaches have increased awareness around cyber risk and as a result, cyber-related mentions in earnings calls has been largely on the rise.
The Council's Biannual Cyber Market Watch Survey is Now Open and We Need Your Help.
The Council recently launched its sixth Cyber Market Watch Survey, and we need your participation to help us accurately capture a snapshot of the market.
According to a recent Bloomberg study, the threat of cyber-attacks is among the biggest worries for businesses around the world.
GDPR at the Eleventh Hour: Your Last Minute Fixes
You're invited to a members only conversation with EU-based experts on the extraterritorial Global Data Protection Regulation (GDPR).
The discussion will help you assess your brokerage's and your clients' preparedness for the new data collection and data transfer regime in Europe. Legal experts from BDO and Steptoe & Johnson will share their views on GDPR's effects on the insurance sector and advise on clients' last-minute compliance fixes.
Date: Monday, May 7, 10:00 a.m. ET
Around the Horn
Updates and insight on reauthorization efforts around the National Flood Insurance Program, data breach notification requirements, GDPR, the state of play for healthcare, DC politics and the midterms ahead. We've got it all covered.